The Windrush: Stories, Reminiscences & Recollections
The Second War World ended in 1945. A considerable portion of Britain had been destroyed by the war. In 1948, the British government called upon citizens from the Commonwealth to come and rebuild Britain. 493 men and some women responded to that call and came on the on the ship called 'The Windrush'.
This exhibition commemorates the anniversary of the first mass migration from the Caribbean to Britain in 1948. But most importantly, it illustrates the invaluable contributions The Windrush migrants and subsequent generations have made to Britain over the decades.
The Exhibition at the Milton Keynes Central Library 2021 was the last part of this project which has also been exhibited in Wycombe Museum 2020.
Exhibition at Milton Keynes Central Library 6th July- 11th October 2021
It provided an opportunity for those visiting the library to learn more about the Windrush.

"Very informative, older and new generations needs to know about  the struggles of people of colour"
"Very interesting read, informative and the pictures also add so much to the stories. Well, done."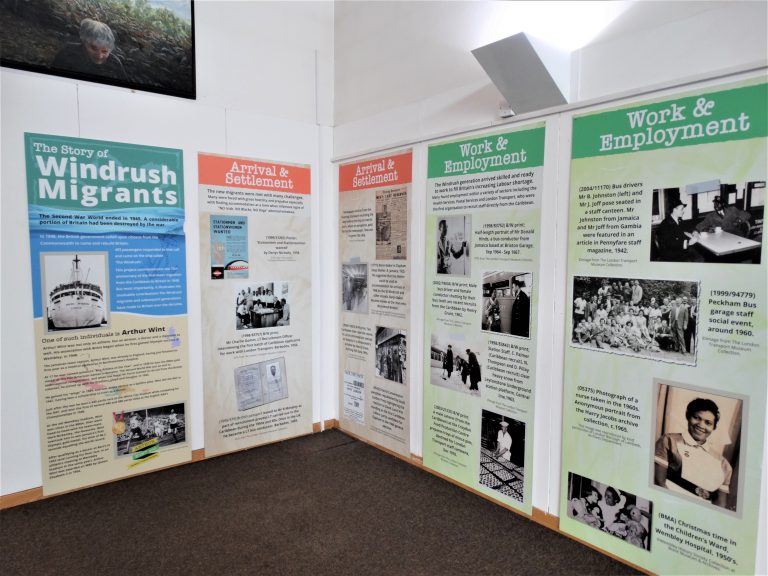 Exhibition at Wycombe Museum
To mark Black History Month, Learning Through the Arts celebrated the story of the Windrush migrants through 4 months long exhibition at Wycombe Museum. Due to restrictions on the opening of the main museum space caused by social distancing guidelines, the museum was operating as a Cafe and gardens only. Installing the Windrush Stories exhibition on the ground floor gave the museum an opportunity to attract visitors through a temporary exhibit which ran in tandem with their own pop-up exhibition 'We Are the Windrush Legacy' at the Eden Shopping Centre, which also open from the 1st October 2020.


Family Workshops
The exhibition was accompanied by two days of Windrush themed family workshops at Wycombe Museum over October half-term delivered by Learning Through the Arts.
Both sessions started with an introduction to the story of Windrush through a discussion of four images that mapped the journey from a poster advertising jobs in the UK to travelling on the Empire Windrush, staying in Clapham underground shelter temporarily and starting a new job. Children were invited to look at the images closely and explain what they saw, before considering how it would have felt to arrive in a new country. The facilitator then introduced the craft activity and gave a step by step instruction before allowing time for independent decoration.

 "Nice and informative with good facts about the Windrush and targeted at the right level for the children."